Retail
Globalization and intense competition have changed the modern retail landscape. Alphatech understands the challenges that retailers face: dealing with high consumer expectations, supplier partnerships, and the need for better operational efficiency. Our complete range of IT and retail business solutions helps global retailers to address these issues.
Why use outsourcing services? Many think about the potential cost savings for outsourcing opportunities – and that's true for the most part – but Alphatech believes that there is much more to the concept than just possible cost savings.
Matter of fact – IT Outsourcing does not equal – offshore. To meet our clients' operational and strategic objectives, Alphatech offers a range of flexible Retail and E-commerce solutions to optimize service levels, reduce and improve cost structures, and strengthen competitive positioning.
Alphatech design your E-Commerce center so that you have complete management control over your content. You can update your pricing and inventory to reflect the day-to-day operations of your brick and mortar store. Alphatech Retail Solutions highlights includes:
Multi-Channel Commerce
RFID Solutions and Analytics
Point of Sales Solutions
Master Data Management,
Customer Relationship Management
Marketing and Merchandising
Our Centers of Excellence, like Retek and SAP-IS-Retail, share best practices across the engagements executed. Our service offerings are spread across the retail value chain, focusing on the areas of marketing, merchandising, supplier collaboration, warehouse management, store management, financials, and HR.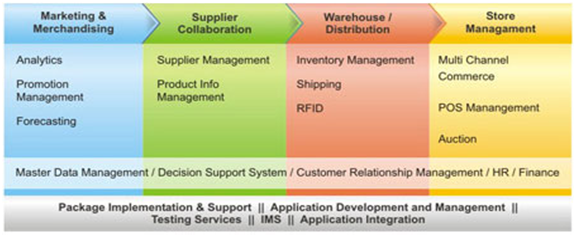 Alphatech has helped retailers with sales analytics, promotion management, loyalty management, forecasting, and merchandising solutions. We have successfully developed/maintained applications and customized products to suit client needs in this space.