Life Sciences and Pharmaceuticals
Alphatech helps life science and healthcare companies utilize technology to find and develop drugs faster, manufacture products more efficiently, serve patients more effectively. Alphatech's has deep and extensive experience serving global customers Life Sciences and Pharmaceuticals customer providing IT solutions with a broad range of portfolio across the value-chain. The solution portfolio covers the Technology Assessment, Supply Chain Planning, Business Process Optimization and Compliance services.
Alphatech utilizes expertise in scientific systems, laboratory management, content management systems, Enterprise Resource Planning (SAP), business intelligence, and many other solution experiences to make our Customers as competitive as possible.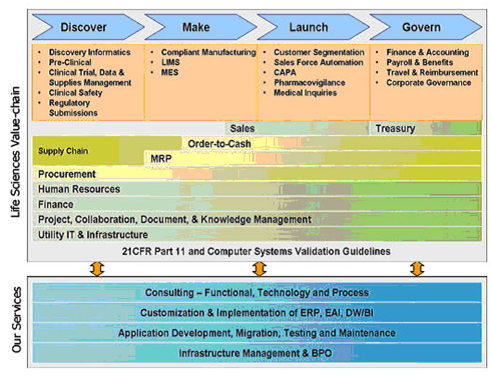 We also address numerous challenges faced by Life Sciences companies, including:
Managing, streamlining, and integrating manufacturing and supply chain business processes within the organization, and with the enterprise's supply chain solutions.
Reducing the cycle time of clinical trials.
Responding to regulatory requirements (FDA) designed to improve product quality, reduce medical errors, and ensure the integrity of financial control and reporting.
Establishing a collaborative work environment encompassing internal and external knowledge workers.
Managing Enterprise Content Management with compliance and industry best practices.